A 60 Second Review by Anne Brees
★★★★★ (5.00)
Genre – Young Adult Fantasy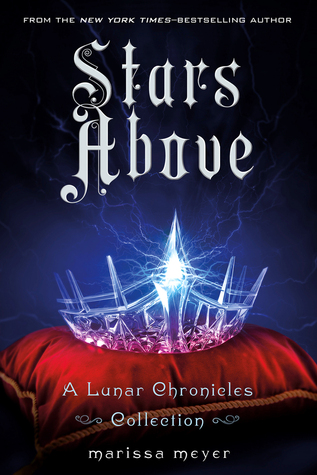 Summary – The Little Android: A retelling of Hans Christian Andersen's "The Little Mermaid," set in the world of The Lunar Chronicles.
Glitches: In this prequel to Cinder, we see the results of the plague play out, and the emotional toll it takes on Cinder. Something that may, or may not, be a glitch….
The Queen's Army: In this prequel to Scarlet, we're introduced to the army Queen Levana is building, and one soldier in particular who will do anything to keep from becoming the monster they want him to be.
Carswell's Guide to Being Lucky: Thirteen-year-old Carswell Thorne has big plans involving a Rampion spaceship and a no-return trip out of Los Angeles.
The Keeper: A prequel to the Lunar Chronicles, showing a young Scarlet and how Princess Selene came into the care of Michelle Benoit.
After Sunshine Passes By: In this prequel to Cress, we see how a nine-year-old Cress ended up alone on a satellite, spying on Earth for Luna.
The Princess and the Guard: In this prequel to Winter, we see a game called The Princess
The Mechanic: In this prequel to Cinder, we see Kai and Cinder's first meeting from Kai's perspective.
Something Old, Something New: In this epilogue to Winter, friends gather for the wedding of the century…

Initial Thoughts – I adore the Lunar Chronicles, so I was ecstatic to know there would be a collection of short stories based on this world. This book was everything I dreamed of and more.
Plot – ★★★★★ I never wanted to put this book down. Sometimes for short story collections, it's easy to get bored with the different plots. However, I loved learning more about all the characters through this book.
Characters – ★★★★★  In my opinion, the best part of the Lunar Chronicles were the characters. All of them were imperfectly perfect and it was impossible not to love every single one. This novel gives you a new look at each of the characters.
Story world – ★★★★★ This book offers some insight on places mentioned in other parts of the Lunar Chronicles that you never really got a true picture of.
Style – ★★★★★  I love Meyer's style, which is perfect for the series.
Closing Thoughts – Yes. Yes. Yes. This book was perfection. I want ten more of these, please.
Recommendation – Perfect for fans of the Lunar Chronicles that don't want the series to be over just yet.
(summary and cover from GoodReads)