A 60 Second Review by Anne Brees
★★★★★   (5.00)
Genre – Adult Historical Fiction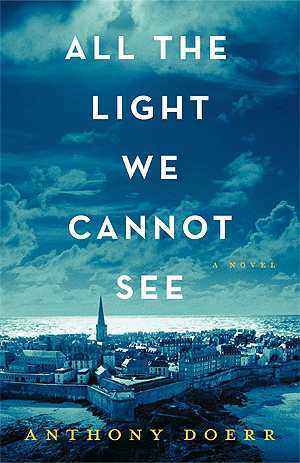 Summary – Marie-Laure lives with her father in Paris near the Museum of Natural History, where he works as the master of its thousands of locks. When she is six, Marie-Laure goes blind and her father builds a perfect miniature of their neighborhood so she can memorize it by touch and navigate her way home. When she is twelve, the Nazis occupy Paris and father and daughter flee to the walled citadel of Saint-Malo, where Marie-Laure's reclusive great-uncle lives in a tall house by the sea. With them they carry what might be the museum's most valuable and dangerous jewel.
In a mining town in Germany, the orphan Werner grows up with his younger sister, enchanted by a crude radio they find. Werner becomes an expert at building and fixing these crucial new instruments, a talent that wins him a place at a brutal academy for Hitler Youth, then a special assignment to track the resistance. More and more aware of the human cost of his intelligence, Werner travels through the heart of the war and, finally, into Saint-Malo, where his story and Marie-Laure's converge.
Initial Thoughts –  After it's won so many awards and gotten so many raving reviews, I ordered this book from the library. After I finally got through the long waiting list at the library, I read it. And thank God I did.
Plot – ★★★★★ Everything is weaved together so beautifully with the different characters' stories. It's difficult to take three seemingly unconnected characters and twist their stories together so that they all fall together in the end. Anthony Doerr does this perfectly.
Characters – ★★★★★ These characters come from different backgrounds and contradict each other, yet I still love all of them.
Story world – ★★★★★ Anthony Doerr did his research. I walked through the cities of Paris, skipped through coal mines, cowered in collapsing cellars, and drove through desolate Russia with these characters.
Style – ★★★★★ Anthony Doerr's style is beautiful. One of my favorite parts of the book was the POV of Marie-Laure, because he managed describe the setting perfectly, using all the other senses but sight.
Closing Thoughts – If you haven't read this haunting story yet, you have to. It's perfect for fans of Between Shades of Grey and The Book Thief.
(summary and cover from GoodReads)