A 60 Second Review by Anne Brees
★★★☆☆   (3.00)
Genre – Young Adult Fantasy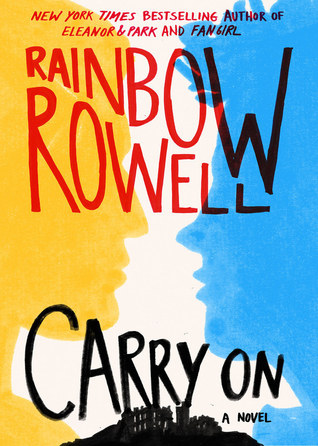 Summary – Simon Snow is the worst chosen one who's ever been chosen.
That's what his roommate, Baz, says. And Baz might be evil and a vampire and a complete git, but he's probably right.
Half the time, Simon can't even make his wand work, and the other half, he sets something on fire. His mentor's avoiding him, his girlfriend broke up with him, and there's a magic-eating monster running around wearing Simon's face. Baz would be having a field day with all this, if he were here—it's their last year at the Watford School of Magicks, and Simon's infuriating nemesis didn't even bother to show up.
(Summary from Goodreads)
Initial Thoughts – I knew I shouldn't have read this book. I LOVED Fangirl so much (and most of Rowell's other books), but I was worried when I heard this book was going to be coming out. The book had too many similarities to Harry Potter in the beginning to work for me. Yes, Rainbow Rowell completely changed the plot, but the whole premise was Harry Potter. And that might work for some people, but it just didn't for me.
Plot – ★★★☆☆ It took a long time to for the plot to pick up. This is supposed to be the final book in the series, so Rowell spends a lot of time covering the previous 'books' in the first 100 or so pages. Once the plot finally appears, it's much better.
Characters – ★★★☆☆ The characters took a long time to grow on me. I think I was too busy comparing them to Harry Potter to actually see them as their own characters.
Story world – ★★☆☆☆ I can't give Rowell much credit to her story world because I feel like she didn't create it. There were some differences, yes, but it just wasn't enough for me.
Style – ★★★★☆ I love Rainbow Rowell's style, as always, but I think she struggled just a little with the fantasy aspect. While I think it's great when authors stray outside of their normal genres, I think it didn't quite work for Rowell.
Closing Thoughts – I think the thing that bugs me the most is that Rowell didn't acknowledge at all in the author's note or the acknowledgements that she borrowed stuff from J.K. Rowling. If she had done that, I would have been completely okay with this book and probably enjoyed it a lot more. This book just wasn't for me. Maybe you can read it and enjoy, but I'm going to stick with Harry Potter.
(summary and cover from GoodReads)