A 60 Second Review by Anne Brees
★★★★☆ (4.25)
Genre – Young Adult Contemporary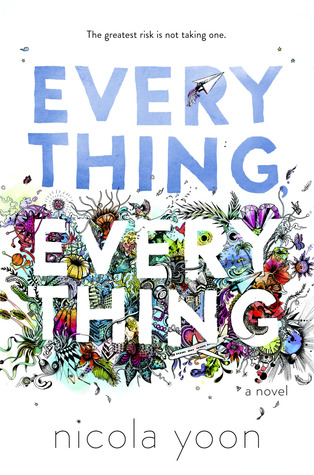 Summary – My disease is as rare as it is famous. Basically, I'm allergic to the world. I don't leave my house, have not left my house in seventeen years. The only people I ever see are my mom and my nurse, Carla.
But then one day, a moving truck arrives next door. I look out my window, and I see him. He's tall, lean and wearing all black—black T-shirt, black jeans, black sneakers, and a black knit cap that covers his hair completely. He catches me looking and stares at me. I stare right back. His name is Olly. (Summary from GoodReads)
Initial Thoughts – I was pulled to this book by the beautiful cover. (I mean, LOOK AT IT!!!!)
Plot – ★★★★☆ I was loving this book up into the 'big twist'. (If you read it, you will know what I'm talking about.) I had kind-of predicted it while reading it, but I was hoping it wouldn't be true. The twist just didn't sit well with me. It felt…easy.
Characters – ★★★★☆ Maddy and her mom are wonderful complex characters. However, Olly was a bit too perfect for my liking.
Story world – ★★★★☆ Maddy's house with all of it's anti-everything technology was clearly researched and it was fascinating to see the world through Maddy's sheltered eyes.
Style – ★★★★★ The style of this book flowed easily, making it impossible to put it down.
Closing Thoughts – This book is definitely a need read, even though the ending didn't quite fit my liking.
(summary and cover from GoodReads)