A 60 Second Review by Anne Brees
(This is the second book in the Daughter of Smoke and Bone series. You can find my review of the first book here. Spoilers in the summary below.)
★★★★★ (5.00)
Genre – Young Adult Fantasy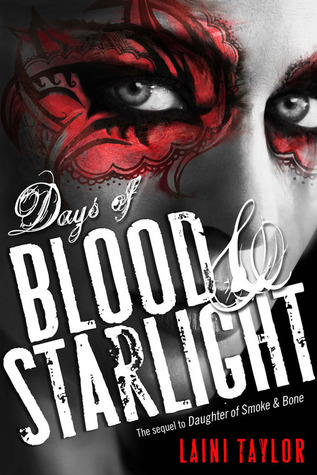 Summary – Art student and monster's apprentice Karou finally has the answers she has always sought. She knows who she is—and what she is. But with this knowledge comes another truth she would give anything to undo: She loved the enemy and he betrayed her, and a world suffered for it.While Karou and her allies build a monstrous army in a land of dust and starlight, Akiva wages a different sort of battle: a battle for redemption. For hope.
 (Summary from GoodReads)
Initial Thoughts – After finishing Daughter of Smoke and Bone, there was no question that I had to read this book.
Plot – ★★★★★ This book. Is it possible that it was even better than Daughter of Smoke and Bone? You definitely don't have to worry about second book syndrome here.
Characters – ★★★★★ I love all of the characters in this series so much because they all have their imperfections and quirks.
Story world – ★★★★★ The sequel spends more time in the fantasy world rather than the real world. It's clear just how much thought Laini Taylor has put into her story world.
Style – ★★★★★ I bow down to Laini Taylor's writing. End of story.
Closing Thoughts – Read this. If you haven't read the first book, read that, and then this. Now.
(summary and cover from GoodReads)